Microsoft and Nintendo sign 10-year deal for "full" Call of Duty [Updated]
[ad_1]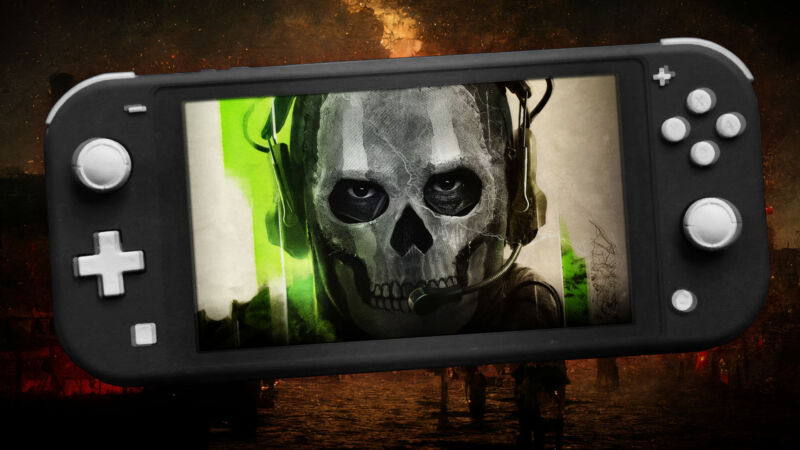 [Update 3:35pm 02/21: This post has been updated with information about Microsoft's deal with Nvidia's GeForce Now, along with comments from Brad Smith in Brussels regarding both Nintendo and Nvidia deals.]
Microsoft appears to have made good on a promise to offer Call of Duty on Nintendo devices, a move seemingly aimed at calming antitrust concerns about its acquisition of Activision Blizzard.
Microsoft President and Vice-Chair Brad Smith tweeted the news early Tuesday morning, stating that Microsoft had "signed a binding 10-year contract to bring Xbox games to Nintendo's gamers." The contract is "just part of our commitment to bring Xbox games and Activision titles" to "more players on more platforms," Smith wrote.
We've now signed a binding 10-year contract to bring Xbox games to Nintendo's gamers. This is just part of our commitment to bring Xbox games and Activision titles like Call of Duty to more players on more platforms. pic.twitter.com/JmO0hzw1BO

— Brad Smith (@BradSmi) February 21, 2023
Perhaps most interesting to players (if not regulators) is the official statement embedded in Smith's tweet. The game Call of Duty will arrive on "the same day as Xbox, with full feature and content parity—so they can experience Call of Duty just as Xbox and PlayStation gamers enjoy Call of Duty."
As when Microsoft first announced its "commitment" to Call of Duty on Nintendo (and Steam), there are many missing details as to how this deal could work out. Offering "full feature and content parity" on Nintendo's Switch, running hardware from 2017 that was already slightly dated when it debuted, requires either some notable asterisks, considerable downscaling, or perhaps the release of the next Nintendo console.
That Switch successor has been hinted at in recent UK filings and would certainly make it easier to offer a tolerable version of Call of Duty. Unlike other big-budget, single-player-oriented games, a streaming gameplay workaround, such as that offered by Control and Hitman releases, isn't as likely to fly with a game with a heavy focus on reaction times and lag reduction. A Call of Duty title hasn't been offered on Nintendo hardware since Ghosts was offered as a kind of side-title on the Wii U.
Then again, the Nintendo deal was announced on the same day as Microsoft announced it would bring Xbox games—and, if its deal is approved, Call of Duty—to Nvidia's GeForce Now streaming service. GeForce Now, in its latest "Ultimate" offering, has made a point of prioritizing low-latency game streaming, utilizing its Reflex tech, for competitive multiplayer online games. While GeForce Now isn't offered on Switch, some white-labeled or GeForce-Now-inspired streaming version of Call of Duty could make its way to a current or future Nintendo console.
There are, of course, other reasons Microsoft has made deals with Nintendo and Nvidia. Xbox chief Phil Spencer hinted to Bloomberg in December that a deal with Nintendo could give it leverage against Sony, which has yet to accept a similar 10-year offer while it also pushes legislators to block the Activision Blizzard deal. Even without the deal, Spencer has said Microsoft would offer Call of Duty to Sony's audience "as long as there's a PlayStation out there to ship to."
All these statements, commitments, and not-so-subtle maneuvers are happening as Microsoft's $68.7 billion acquisition of Activision Blizzard faces growing opposition from regulators. The Federal Trade Commission filed suit in January to halt the deal, specifically noting Microsoft's acquisition of Bethesda/Zenimax as evidence of a "record of acquiring and using valuable gaming content to suppress competition from rival consoles." The FTC suggested an Activision acquisition could allow Microsoft to degrade the game quality or withhold content on rival systems and services.
The United Kingdom's Competition and Markets Authority came out strongly against the Activision deal earlier this month, citing similar concerns about a loss of competition among systems and quality parity across systems. The FTC and UK CMA actions are still in progress and not yet final. Microsoft has generally pointed to its commitments outside its Xbox platform to bolster its case to the press and the public, often referencing Call of Duty specifically.
Relatedly, on Tuesday, the president of the Communications Workers of America (CWA) union asked the European Commission to approve the Activision deal. The endorsement arrives after Microsoft affirmed a labor neutrality agreement in June, stating it would not oppose collective bargaining efforts by Activision employees. Ongoing union efforts at divisions inside Activision have been contentious.
At a press conference in Brussels addressing European opposition to the deal, but also tagged to the Nintendo and Nvidia deals, Smith said the Activision deal has "never been about spending $69 billion so that we could acquire titles like Call of Duty and make them less available to people." Microsoft, Smith said, is focused on "using this acquisition to bring more games to more people on more platforms and devices than ever before, to bring more competition into gaming than ever before."


[ad_2]

Source link