Kang the Conqueror is shattering timelines in new Quantumania trailer
[ad_1]

Marvel has been notably restrained about its marketing for Ant-Man and the Wasp: Quantumania. The film will be released in February, and we've had just a few sneak peeks and exactly one trailer over the last few months that told us very little about what to expect. Now we finally have the latest trailer, and it's an eye-popping visual extravaganza in which Scott Lang (Paul Rudd) faces off against Kang the Conqueror (Jonathan Majors) in an epic battle in the Quantum Realm. And we catch a glimpse of MODOK. for good measure.
As we've reported previously, the release of Black Panther: Wakanda Forever marked the end of Phase Four of what's officially being called The Multiverse Saga (encompassing Phases Four, Five, and Six). Quantumania kicks off Phase Five. Per the official premise:
Superhero partners Scott Lang and Hope Van Dyne (Evangeline Lilly) return to continue their adventures as Ant-Man and the Wasp. Together with Hope's parents Hank Pym (Michael Douglas) and Janet Van Dyne (Michelle Pfeiffer), the family finds themselves exploring the Quantum Realm, interacting with strange new creatures, and embarking on an adventure that will push them beyond the limits of what they thought was possible.
We met a version of Kang in the first season of Loki: He Who Remains, the creator of the Time Variance Authority. Quantumania features a different version from another timeline who has been trapped in the Quantum Realm. Kathryn Newton plays 18-year-old Cassie Lang. Randall Park reprises his role as FBI Agent Jimmy Woo, and Gregg Turkington is back as Dale, the Baskin-Robbins manager from 2015's Ant-Man.
David Dastmalchian—who played Kurt in the first two Ant-Man films—appears as Veb, with William Jackson Harper playing Quaz. Katy O'Brian plays Jentorra, the warrior leader of the Freedom Fighters in the Quantum Realm, while Cory Stoll plays MODOK., having previously appeared in Ant-Man as Darren Cross/YellowJacket. Finally, Bill Murray plays Lord Krylar, governor of a community called Axia in the Quantum Realm. And apparently he has a history with Janet, who spent 30 years trapped there herself. Janet clearly has her secrets.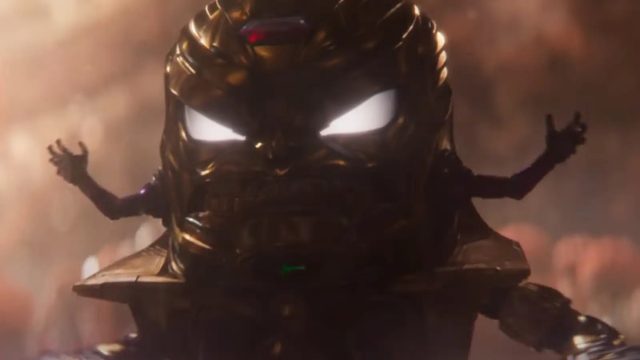 We learned from the trailer in October that Scott had become a bit of a superhero celebrity (although frequently mistaken for Spider-Man) and written an autobiography (Look Out for the Little Guy) offering his version of events in the battle against Thanos in Avengers: Endgame. Cassie has developed into a budding young scientist, fascinated by Hank Pym's old notes, and builds "a satellite for deep space, but quantum"—essentially sending a signal to the Quantum Realm. Janet tells her to turn it off immediately, but the warning comes too late. The entire family goes subatomic, and Kang promises to return them home… for a price.
Recall that Scott spent five years trapped in the Quantum Realm and thus missed a big chunk of daughter Cassie's childhood. That's the vulnerability that Kang exploits in this new trailer, offering Scott a second chance in the form of more time. "You've lost a lot of time, like me," Kang says. "We can help each other with that." Janet once again gives a warning that apparently goes unheeded, telling Scott that Kang can "rewrite existence and shatter timelines."
It doesn't take long for Kang to become a serious threat. He taunts Scott during their battle that he can't win. Scott replies that they both just have to lose. One suspects Ant-Man will live to fight another day. And some version of Kang will most definitely be back since Marvel CEO Kevin Feige has said that Quantumania will be "a direct line" to Avengers: The Kang Dynasty, the Phase Five film slated for release in 2025. (The new trailer's tagline: "Witness the beginning of a new dynasty.")
Ant-Man and the Wasp: Quantumania hits theaters on February 17, 2023.
Listing image by YouTube/Marvel Studios
[ad_2]

Source link