8BitDo makes the Mac great for retro games—iPhone? Not so much
[ad_1]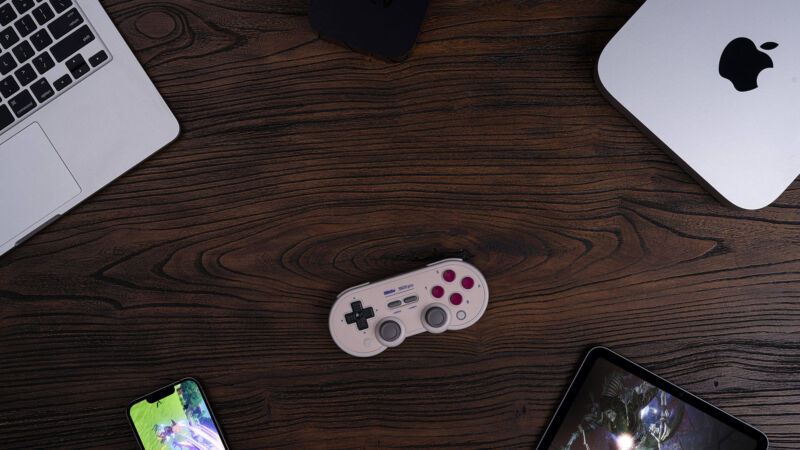 The 8BitDo SN30 Pro has repeatedly been called one of the best controllers for playing retro console games, particularly those originally made for the Super Nintendo Entertainment System (SNES)—which makes sense, since its design is based on the SNES controller.
Now that controller works much better on Apple platforms like the Mac, iPhone, iPad, and Apple TV thanks to new firmware updates from 8BitDo. That's great news for folks who want to play 16-bit classics on their Macs, but the lack of retro console emulators on the iPhone, iPad, or Apple TV makes it a bit of a waste on those platforms.
Granted, the firmware update applies to more than just the SN30 Pro. 8BitDo's Ultimate Controller 2.4g, Pro 2, and Lite SE also got the firmware update—as well as the SN30 Pro variants, the SN30 Pro Plus and the SN30 Pro for Android. The Ultimate Controller, Pro 2, and Lite SE aren't so much meant as retro controllers as just good all-arounders, and so that's welcome for folks who enjoy games on Apple Arcade and the like.
8BitDo is arguably most famous for its retro gaming cred, though. For example, its SNES and Sega Genesis-like controllers have been paired with Analogue's meticulously fashioned, FPGA-based Super Nt and Mega Sg consoles that were designed to play original SNES and Genesis cartridges. And the SN30 Pro is a popular controller for playing classic SNES games on Nintendo's Switch Online service. The company has been looking to branch out from retro controllers more recently.
It was possible to use the SN30 Pro with the Mac before but it wasn't supported and you could run into some challenges with some games or specific buttons, among other things.
To update the firmware of a controller, you can download 8BitDo's upgrade tool, which is available on macOS and Windows. Your Mac will also have to be updated to at least macOS 13.2—the same goes for the iPhone, iPad, and Apple TV, which need to run iOS 16.3, iPadOS 16.3, and tvOS 16.3, respectively.
The complicated saga of gaming on a Mac
Much has been written over the years about how the Mac is decidedly not the ideal platform for gaming, primarily because what few "hardcore gamer"-type games it has gotten have usually been mediocre ports from Windows.
Those ports became an even bigger issue when Apple moved from the x86 architecture and Intel chips to its own ARM-based silicon. On the other hand, the newest Macs are much faster than the old Intel ones—especially when it comes to graphics—so in cases where game developers bring native versions of graphics-intensive games to the latest Macs, the performance can be quite impressive.
Apple has tried to flip the script by working with developers to bring games like Resident Evil Village and No Man's Sky to the platform and by requiring folks who make Apple Arcade games for the iPhone and iPad to also support the Mac. No Man's Sky hasn't hit yet, but Resident Evil Village impressed on Apple Silicon Macs. Unfortunately, those two games don't come close to what you can play on a Windows PC, and Apple Arcade games' Mac support is often nominal at best, with awkward controls and interfaces that clearly weren't adapted well from mobile.
That said, the Mac has always been a strong platform for playing emulated retro games. DOSBox is alive and well on the Mac, and I'm a big fan of OpenEmu, a Mac-only multiplatform emulator for retro games with a lovely interface. If you're less attached to the nice interface and are OK with out-of-control feature bloat and Linux-y vibes (and I'm sure many of you are), you can run the popular emulator RetroArch on Macs too. OpenEmu is still an x86 app, but it runs fine in Rosetta in most cases. RetroArch offers an Apple Silicon version.
Most emulated retro games run well on both Intel and Apple Silicon Macs, and Apple and 8BitDo's effort to bring the SN30 support makes that prospect even more appealing.
The iPhone isn't the best for retro games
While 8BitDo and Apple have made a lot of noise about these controllers coming to the iPhone, iPad, and Apple TV, the retro angle isn't as strong there. Some gaming companies like Sega, Square Enix, and others make many of their retro games available as iPhone apps for a price (or with ads) but in some cases, they don't even support controllers—only touch controls. And Apple does not allow retro console emulators on the App Store. While you can download applications from sources other than Apple's App Store on the Mac, that's not the case for the company's other platforms.
Without emulators that give users access to thousands of games that have otherwise been lost to history, the iPhone will never be as appealing as a retro gaming platform as a Mac, Windows PC, or Android phone.
It's still nice to see more controller options on the iPhone for other purposes, though. The firmware updates for the above-mentioned controllers are available now. 8BitDo plans to extend this support to other controllers it has shipped before soon, too, but there's no publicly available timeline.
[ad_2]

Source link